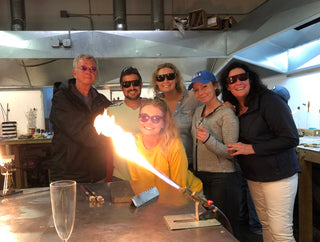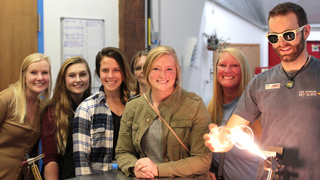 HAVE FUN TOGETHER
Book A Group Event
All of our classes and designer events can be adapted for a group class. Whether it is a team building event, a bachelorette party, or a fun time out with your crew. Experience a creative and new adventure together. Please note group rates are only applicable to groups of 7 or more. Hot Shop Classes are $59 per person and Flamework Classes are $62 per person.
Is your group a little less hands on but still want to explore glass blowing? We can also curate a designer event for your group experience. Reach out to our group class coordinator to curate your group event.
7 Days A Week
We offer classes and designer events all day in both of our studios 7 days a week. Private classes, group classes, and kids classes are available.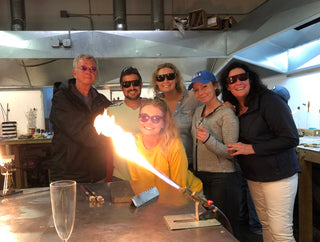 Bachelorette Parties
Break out the wine! (but don't break the glasses!)
Book a Group Wine Glass class at Lake Superior Art Glass and see why we're the go-to venue in Duluth, MN.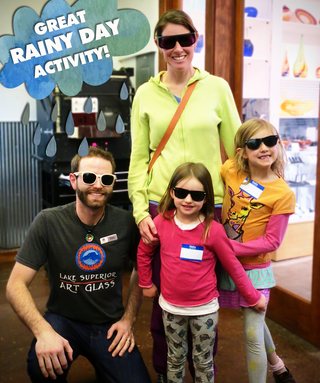 Field Trips
Too many for a hands-on class, but still want to spark a love for art? Bring the crew for a live, interactive glassblowing demonstration.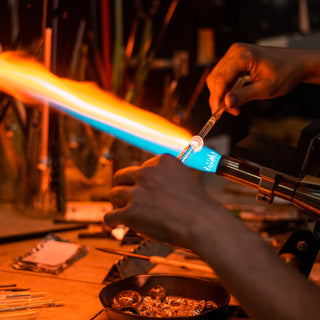 Blow Your Employees Away
There's nothing like getting paid to make something you enjoy. Boost your employee morale with a staff retreat at Lake Superior Art Glass.
"We had so much fun! It was a unique experience and an especially valuable one for the many art students in our group.My coworkers and I couldn't get over the fact that this is what we getto do for our jobs; bringing students together in a beautiful setting towatch beautiful and unique art be made. As a bonus, the art made right in front of us will hang in our student union for many years!"
– Megan Sirek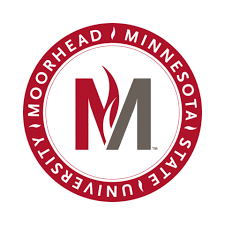 "Taking a class at Lake Superior Art Glass for a staff outing was a thrilling and enjoyable opportunity, enhanced by the knowledgeable, welcoming, and helpful instructors. The experience of trying a unique art form that leaves you with a tangible product you made that you can be proud of is incomprehensibly rewarding and left our staff talking about what classes we all wanted to take next for days! We can't recommend Lake Superior Art Glass enough."
– Brianna Olson
"We were going to Duluth for a work "getaway" and were trying to find a unique group experience. After a quick Google search and a co-workers suggestion, we landed on taking a group class at Lake Superior Art Glass. They were easy to plan with and calmed our "perfectionist" nerves day of. Our two instructors were extremely helpful and encouraging as we made our wine stems. I would highly suggest groups or individuals go."
– Allie Kunkle

Ready To Get Started?
Send us a message and we'll get to work on planning your perfect event.