About Our Artists
Our gallery proudly showcases a collection of glass artistry featuring works from some of the most distinguished glass artists in the nation. At Lake Superior Art Glass, we are committed to presenting a diverse array of glass artworks, including both functional and artistic pieces, as well as offering bespoke glass art services. Our carefully curated selection includes creations from our in-house artists and esteemed independent artisans. We invite you to explore this page to gain insight into the talented artists whose work your purchases support.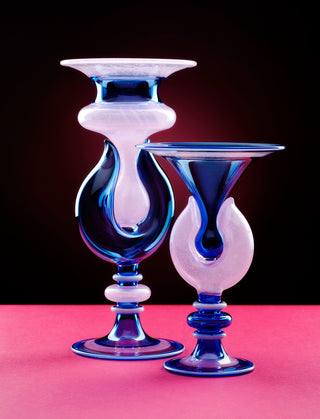 Chris Ahalt
Chris Ahalt has been blowing glass since 1998. Chris went to Venice, Italy in 2004 to apprentice under world-renowned master flame worker, Cesare (Chez-a-ray) Toffolo. There he learned the centuries-old techniques of Venetian Glass Blowing which had a huge impact on his work allowing his perfectionist/showy side to push glass to its limits. Chris will assist Cesare whenever he is able with classes in the U.S.  Chris has also delved into making sculptural glass animals look like balloons. A graduate from the Minneapolis College of Art and Design in 2000 with a Bachelor of Fine Arts in Sculpture/ Furniture Design, Chris taught a Venetian glass class at LSAG in January 20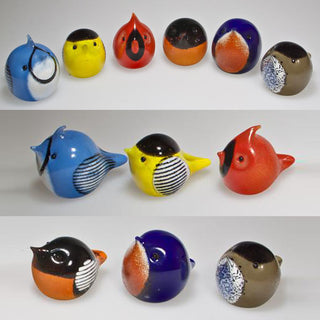 Doug Becker
Douglas Becker has over twenty years of glassblowing experience. His designs focus on capturing the fluid movement of molten glass. To convey this into his finished pieces he creates softly distorted shapes and softens the surface of the pieces with etching and acid polishing. From whimsical birds to exquisite vases, you can see the playfulness in each piece. 
Anchor Bend Glassworks
An unprecedented glass artist collaborative established in 2003.  This award-winning team is comprised of three childhood friends Michael Richardson, Justin Tarducci, and Timothy Underwood.  All met while exploring their shared enthusiasm for art, glass, and creation in and around Newport Rhode Island. Combining their shared passion for hand blown glass after more than 10 years of personal development, Anchor Bend Glassworks continues to redefine the glassblower's art.  The talents from each artist encourage and compliment the energy and originality that permeates every piece of hand blown glass that Anchor Bend creates.  Their award-winning designs can be seen at select galleries and museums Nationwide. Through their work and mission, they help support many nonprofits and charities including The American Heart Association, The Leukemia and Lymphoma Society, March of Dimes, Boys and Girls Club of Newport, etc.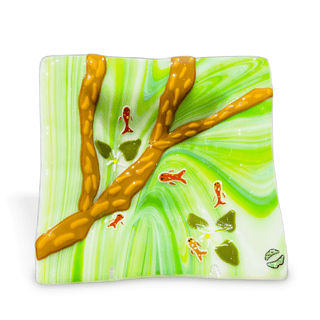 Charles Grisham
Charles Grisham began his career in fused glass art began when he and his wife (also a fused glass artist) were invited to do an art show with nationally known ceramic artist, Amy Sabrina, at her Art Harvest in 2007. Since then their art has grown in popularity. They find the biggest compliment is when buyers come back to purchase more pieces due to the success and compliments they gain after their first purchase. Their art has found homes in Sweden, Australia, Norway, Germany, Guiana South America, Hawaii, Washington, Wisconsin, Florida, New York and many other states. They have done special requests for special occasions, and have not only met, but rose above their expectations. 
Scott Hartley
 GLASS is my escape.  GLASS is the glimmer in my eye.  GLASS gives me that same huge smile and flutter in my chest. GLASS is the perfect marriage of both art and science!  My wife, my family, and my art have shaped me into the person I am today.  My work is hard – both physically demanding and mentally draining – but it is by far the most rewarding work that I have ever done in my life.  If you question my love, my happiness, and my joy that I have found in art and glass, look into my eyes…the shine is bright, just like a piece of glass.  Be careful, or you just might catch the fever.
Ernie Kober
Growing up in a family of glass artists, I began working with this medium at an early age (8 years old which means he has been blowing glass for over 70 years!) and I chose to make glass art and sculpture my life and career. I have had a long career of traveling to art shows, giving lectures, lessons and demonstrations on the art of glass blowing and sculpture lampworking using borosilicate. I have maintained several shops in various states and now work in my private studio in Kansas City. I sell to and display in galleries across the United States. My passion and drive as a glass artist is reflected in each of my pieces as I continue to strive to produce new and exciting forms everyday. Each of my pieces is made exclusively by me; I do not use the work or product of anyone else in my art. My goal, as an artist, is to bring joy and appreciation of color, form and nature to those who purchase and collect my work.