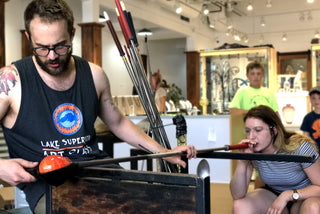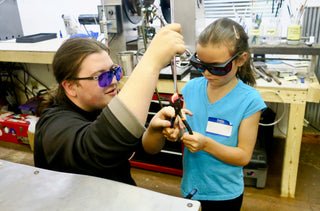 Take A CLASS
Choose the Hot Shop or Flamework Studio
Explore the wonderful world of art glass with our knowledgable and trained instructors.
7 Days A Week
We offer classes and designer events all day in both of our studios 7 days a week. Private classes, group classes, and kids classes are available.
Flameworking Studio and Kids Classes
The Best Thing To Do In Duluth!
The best thing to do in Duluth! Take glass blowing classes at Lake Superior Art Glass and learn a variety of glass blowing techniques. This unique experience will create memories and mementos that will last a lifetime! 
All of our classes are designed for beginners and do not require prior experience with glass. Classes begin with highly detailed demonstrations and explanations of tools, safety, and history. Tap into the artist in you by blending colors and using clear glass to magnify your design while creating beautiful art. Glass cools slowly in a kiln overnight and is available for pick up the next morning or can be shipped right to your door (inquire for shipping price). 
Our Hot Shop Classes and Designer Experiences
Flameworking Studio and Kids Classes
These flameworking classes are a fun and relaxing way to try this form of glassblowing! Learning beginner techniques from this course could "spark" your interest in a new hobby.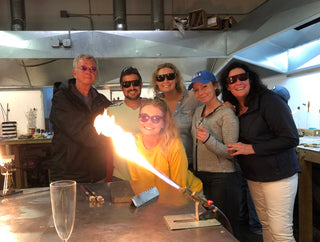 Schedule your group class event!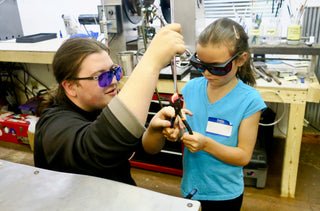 Kids Ages 4+ Pendant Class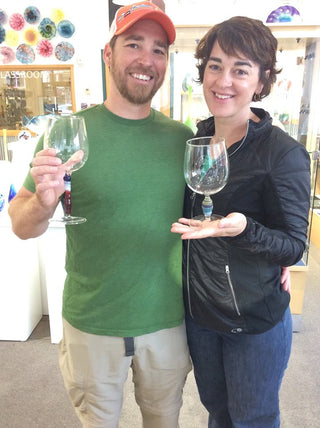 Plan a date night in the studio!